Product Features:
Covid-19 PCR test:A PCR test for COVID-19 is a test used to diagnose people who are currently infected with SARS-CoV-2, which is the coronavirus that causes COVID-19. The PCR test is the "gold standard" test for diagnosing COVID-19 because it's the most accurate and reliable test. Besides the traditional two-step PCR, we provide SARS-CoV-2 Detection Kit (Direct Fluorescence PCR), which is a rapid real-time RT-PCR test without RNA-purification intended for the presumptive qualitative detection of nucleic acid from the SARS- CoV-2 virus in oropharyngeal swab and nasopharyngeal swab specimens from individuals suspected of COVID-19 by their healthcare provider.
Covid-19 Antigen test (Coronavirus Ag rapid test): it is an in vitro immunochromatographic assay for the qualitative detection of nucleocapsid protein antigen from SARS-CoV-2 in direct nasopharyngeal (NP), nasal or saliva swab specimens directly from individuals who are suspected of COVID-19 by their healthcare provider within the first ten days of symptom onset. We also provide self-test with CE certificates.
Covid-19 Antibody test (Colloidal gold): It is used for in vitro qualitative detection of novel coronavirus antibodies in human serum, plasma, whole blood, and/or fingertip blood. An antibody test can not only be used to detect prior Covid 19 infection, but it can also confirm if someone has produced an immune response to the infection. The neutralizing antibody test can also detect the antibody vaccine response.
Product Parameters:
Selected products (for more product models, please contact us):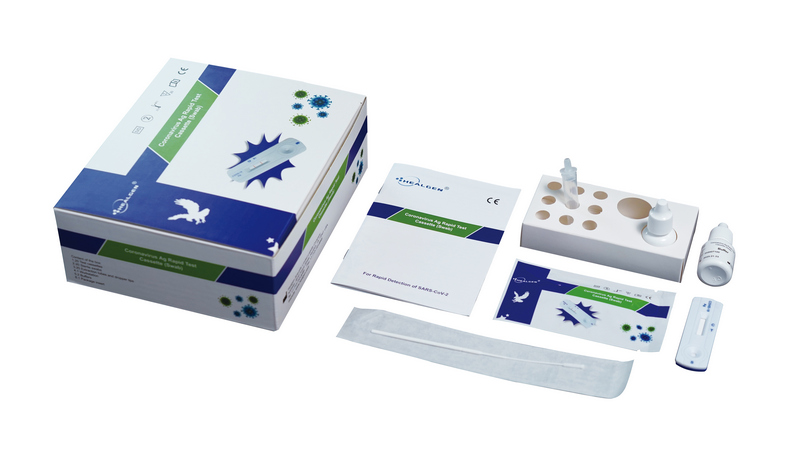 Covid-19 Antigen test(professional use)
Specification:
Components:20 test cassettes, 2 extraction buffer vials, 20 sterile (nasopharyngeal or nasal) swabs, 20 extraction tubes and tips, 1 workstation and 1 package insert,1IFU

Relatively Sensitivity: 98.32%

Relative Specificity: 99.6%

Accuracy: 99.42%

Carton Dimension:

20units/box;50box/carton, 72cm*42cm*39cm, 10kg

Certificate: CE, ISO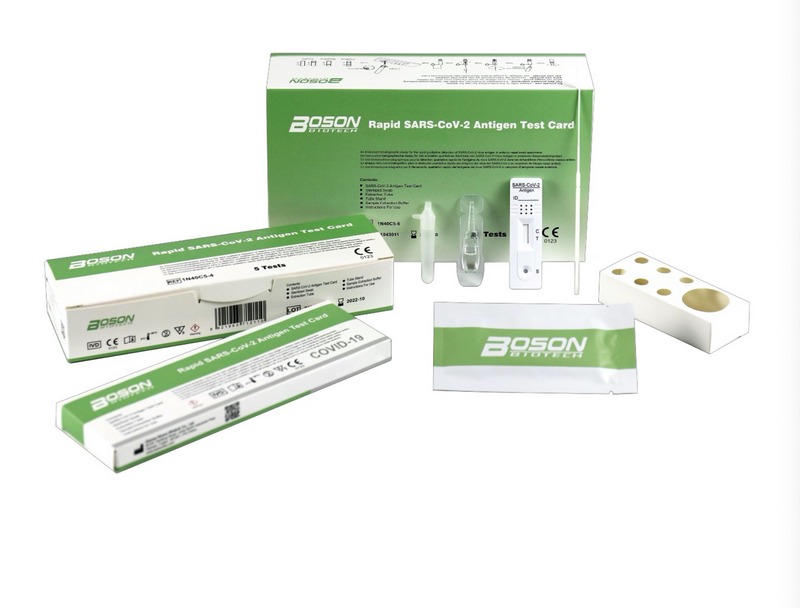 Covid-19 Antigen self-test
Specification:
Components:1 Rapid SARS-CoV-2 Antigen Test Card (sealed foil pouch), 1 sterilized swab,1 extraction tube,1 sample extraction buffer, IFU,1 tube stand

Relatively Sensitivity: 96.7%

Relative Specificity: 99.2%

Accuracy: 98.72%

Carton Dimension:

1 units/box; 250boxes/carton; 40cm*42cm*33cm, 9.9kg

Certificate: ISO, CE for self-test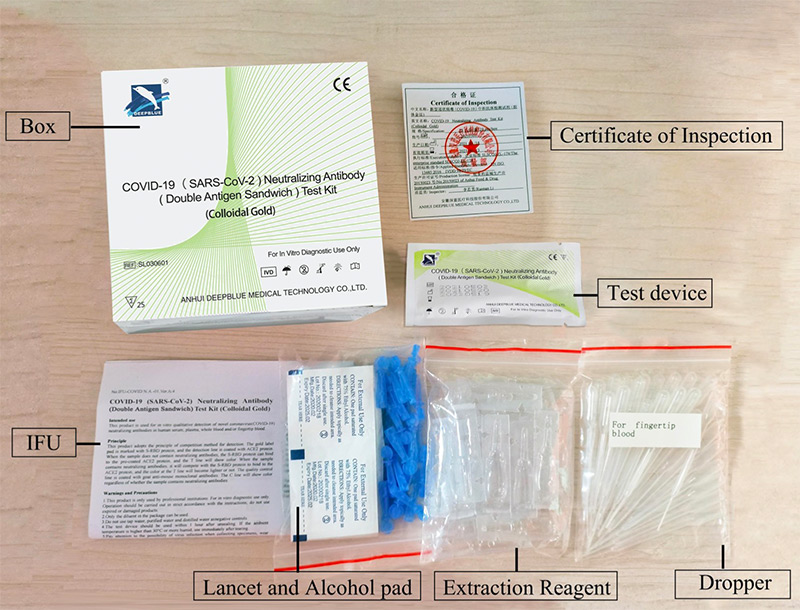 Covid-19 Neutralizing antibody test
Specification:
Components:1 IFU, 1 Certificate of inspection, 25 Lancet and Alcohol pad, 25 Test device, 25 Dropper and 25 Extraction Reagent

Relatively Sensitivity: 93%

Relative Specificity: 97%

Carton Dimension:

25units/box; 60boxes/carton; 58cm*48cm*45cm, 18kg

Certificate: ISO, CE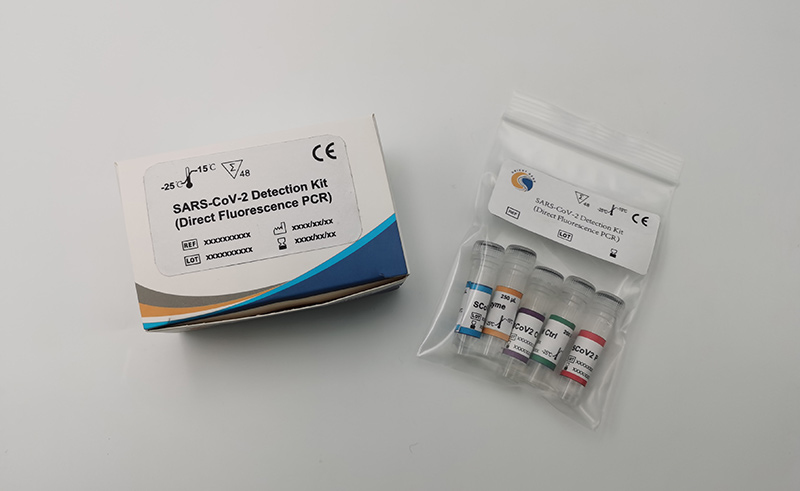 Covid-19 (Direct Fluorescence PCR test
Specification:
Components:SCoV2 Buffer, SCoV2 Enzyme, SCoV2 Oligo, SCoV2 N Ctrl, SCoV2 P Ctrl.

Easy operation:No extraction and purification processes.

Quick test: Fast and reliable results in less than 80min.

Dual target assay: specific for COVID-19 ( N gene and Orf1ab gene ).

Human RNAse P endogenous control: to detect incorrect sampling or possible degradation of the sample.

Suitable for most qPCR thermal cyclers.

Nocross-reactions: distinguish coronavirus from common human respiratory CoVs or MERS

Carton Dimension: 48

Certificate: ISO, CE
Application and After-Sales Service:
COVID-19 antigen test: Intended for screening of suspicious and high-risk asymptomatic COVID-19 and regular surveillance testing for COVID-19.
COVID-19 neutralizing antibody test: Apply to post-vaccination individuals or post-recovery from active infection to determine whether they have functional neutralizing antibodies as a tool for COVID-19 prevention and control.
COVID-19 test (direct fluorescent PCR): A nucleic acid amplification test widely used by fever clinics to identify COVID-19 in patients with signs and symptoms of fever or upper respiratory tract infection.